Delivery zones make it easy to provide home delivery or shipping options for your customers. A zone works very similar to a pickup location, except instead of having a street address, zones are defined by states or zip codes.
A customer's zip code will be used to determine if they are located within a delivery zone and qualify for home delivery.
Service Area
Your delivery zones can either include a service area of one or more states or a series of zip codes. To set up your service area click the 'Delivery Zone' tab. It is generally recommended that you not have two delivery zones overlap the same area.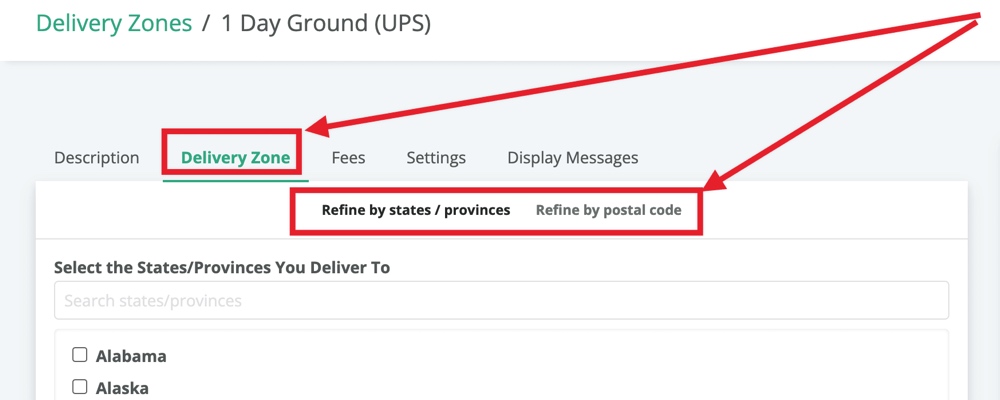 State vs. Zip Code - Zipcode will always take precedence over the state in the case that you have two zones set up, one for the state and one based on zip codes, and a customer enters a zip code that would match both. This is useful if you want to have one zone for customers in a major city, and a different zone for anyone else in that state.
Zip Code Generator Tool - If you need help creating a targeted list of local/regional zip codes, here's a tool that can help.
Delivery Fees - The fees tab is where you can determine your delivery fees for each zone, as well as enable free-delivery thresholds to boost your AOV. Check out our full article on everything Delivery Fees.
Advanced Settings
On the [Settings] tab you'll have access to several dozen advanced settings. We've outlined the most used options below:
Order Minimum - Ability to require a certain order minimum which can be unique for each zone or pickup location.
Payment Options - Here you can specify which payment options you accept for the delivery zone. This setting overrides your global payment options.
Sales Channel - Here you can attribute the sales generated for this delivery zone to a particular channel, which is helpful when tracking where your revenue was generated.
Custom Emails - There are several transaction emails that you can override and make unique to customers assigned to this zone, such as the Order Confirmation, or Subscription Welcome email. Learn more about email templates.
Shipping with UPS or FedEx
Here are a few recommendations we have for suppliers shipping through major carriers like UPS or FedEx.
Create Multiple Zones - In order to provide customers with accurate details on delivery dates, fees, and order minimums, we recommend creating several delivery zones that match the different service types. For example, if you ship 1 & 2-day ground, you'll want to create a zone & schedule for each in order to communicate the correct delivery date.
Label Software - You can generate compliant shipping labels on UPS.com or FedEx.com, but once you have a consistent volume of orders, you'll want to use a shipping software like ShipStation, or VNDR to batch import & generate labels.
Negotiated Rates - Using a 3rd party shipping account is the easiest way to save on shipping cost when starting out. GrazeCart has a partnership with VNDR to provide over 62% savings on Ground and 80% on Overnight rates. Learn more here! VNDR also provides free label printing & automation software, so this is a 2 for 1 deal :)
Zip Code Files - If you need to create a delivery zone that matches your exact service area (1-day ground, or 2-day ground, etc), your carrier can generate a file for you. Reach out to your shipping rep to learn more.
Multi Price Tiers - For suppliers who ship in a combination of Ground and Overnight to achieve a nationwide footprint, you may want to consider charging two separate pricing tiers for each option. The major benefit of this setup is the ability to build in the significant cost upcharge for the overnight rates, vs having to charge your customers a high-ticket delivery fee. Learn more about pricing groups here.
How to Close / Discontinue a Delivery Zone
Below is a video explaining the exact process we recommend for closing a zone and/or pickup location to provide your existing shoppers with a smooth experience.
*Note* Delivery zones can be deleted by selecting Logistics > Delivery Zones & then selecting the trash icon.

We understand that the logistics world is complex and intimidating to sort through. If you have any questions, don't hesitate to reach out to our expert support team for assistance.