Subscription email / SMS notifications give you the ability to communicate proper expectations throughout the subscription lifecycle. Here you have the ability to configure welcome emails, order reminders, OOS notices, and more.
💻 Clickpath
Access subscription notifications at: Apps > Subscribe & Save > Notification
Welcome confirmation
The welcome confirmation is an email sent to only new subscribers on their first order. This sends in replacement of the standard order confirmation email and provides the opportunity to include messaging that addresses subscription orders specifically.
The system sends a default email template which can be found and customized under the email templates section.
Confirmation Email
The re-order confirmation is the email that will send to confirm all orders that are generated after the first one. Like the welcome confirmation, this email sends in replacement of your standard order confirmation email. You can also enable text SMS to send in conjunction.
At this time, SMS notifications can only be enabled to send a default message.
NOTE: The re-order confirmation email will notify customers about out-of-stock items if you include the 'Order Items' merge tag.
Subscription Deadline Reminder
The subscription deadline reminder is another optional email & SMS message you can configure to send at a set time before the subscription order's deadline.
If you allow customers to subscribe to weekly orders, this notification may be overkill as the Re-Order confirmation already serves as a delivery reminder.
The global default template for this notification can be updated to a template of your choice on the 'Notification' tab
You can also update the email template used for each schedule under the 'Notifications' tab.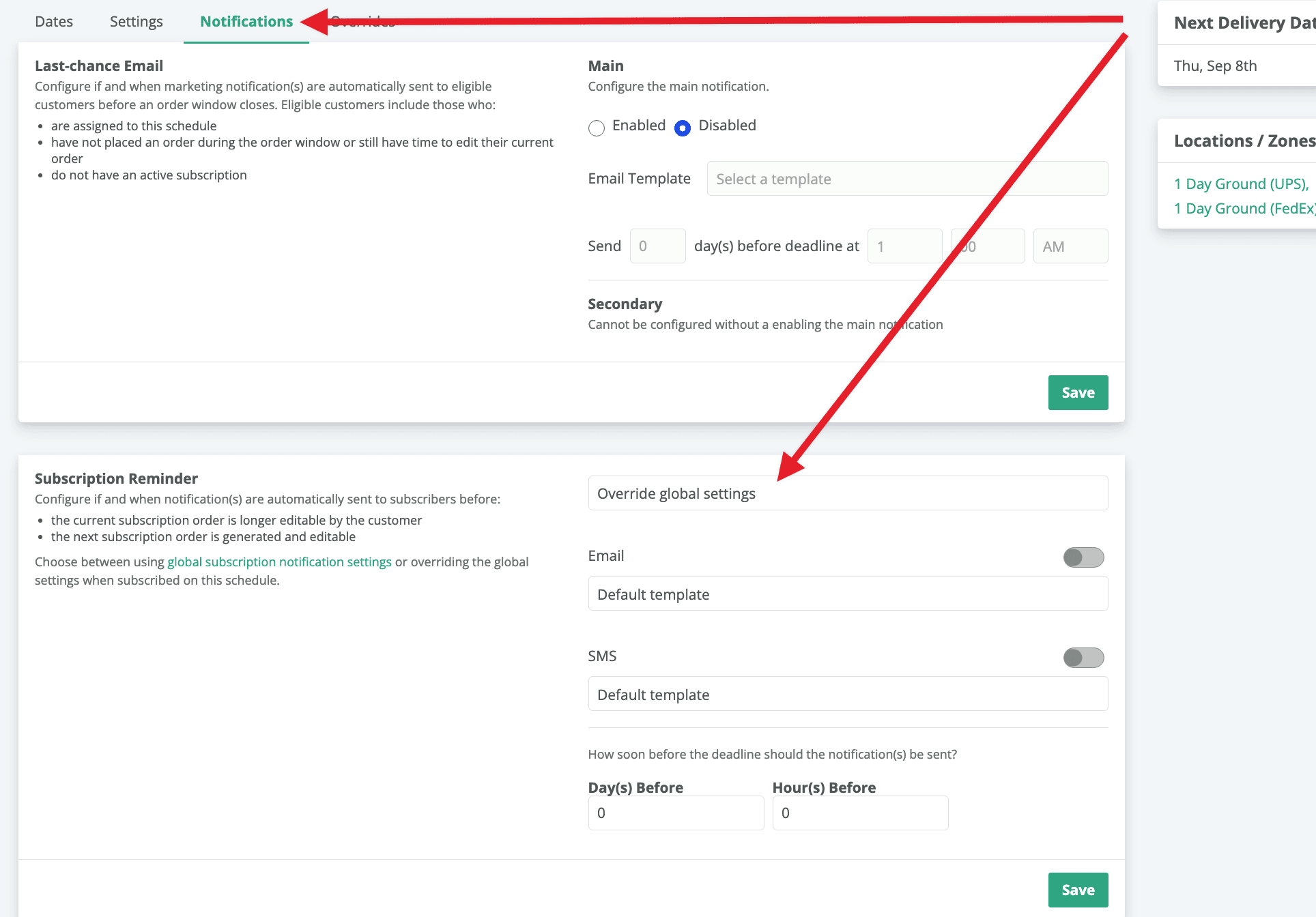 SMS Default Message:
'Good news! Your next The Farms subscription order is set for delivery on Dec 22, 2022. Review details and possible out-of-stock items here - paramount.staging.grazecart.io/account/recurring-orders. Remember, you're in complete control and have until Dec 20, 2022 to make any changes.'